Focus on Education and Conservation
Cumming Utilities Department does more than provide water and sewer services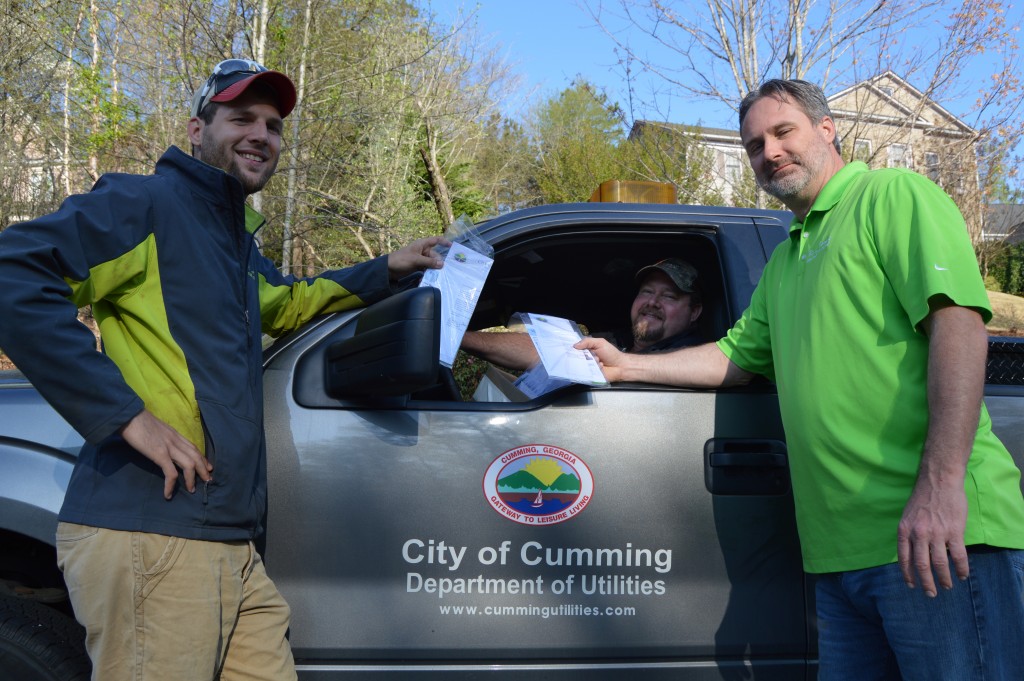 Cumming Utilities Meter Services employees, from left, Alex Brock, John Gilbert and John Mixon, prepare to distribute educational items in a south Forsyth community last week.
As part of ongoing efforts to provide education to the public about water and sewer resources and conservation efforts, the City of Cumming Department of Utilities recently distributed informational brochures and letters to a large south Forsyth subdivision.
Over the course of two days, the department's Meter Services Division delivered 300 letters and "Do-It-Yourself Household Water Assessments," as well as some 1,200 educational brochures covering topics such as landscape irrigation systems, septic tank maintenance, and home water conservation as part of the department's educational efforts. Meter Services employees have made similar deliveries to several other neighborhoods over the past few years as part of a focus on education.
Utilities Director Jon Heard said the educational program is an important part of the department's mission to help the public learn about ways to reduce water usage, which of course leads to lower monthly utility bills.
"When our customers learn ways to improve the water usage in their own homes, it's truly a win-win for everyone," Heard said. "Our community's resources are better protected and our residents can save money on their monthly bills."
Even if you don't live in one of the neighborhoods to receive the informational packets, the Cumming Utilities Department is available to help you find ways to reduce water usage. The "Do-It-Yourself Household Water Assessment" and informational brochures are available to any Cumming Utilities customer at the department headquarters, located on the first floor of Cumming City Hall. The assessment can also be found on the department's website, www.cummingutilities.com. Don't want to tackle the assessment by yourself? Department employees are available to conduct the water assessment for customers at no cost. This free service can be scheduled by contacting the Water Production Office at (770) 781-2026.
The Cumming Utilities Department also offers a limited number of kits that can be used to convert higher-flow shower heads and faucets to lower-flow. These items can be picked up any time between 8 a.m. and 5 p.m. Monday-Friday at City Hall. Customers can also receive $100 bill credit if they switch from an older toilet to a high-efficiency model. Full information about this program can be found on the department's website.
"We encourage all of our customers to let us help them in finding ways to reduce their water usage and costs each month," Heard said.
For more information about the City of Cumming Department of Utilities and all its programs, go to www.cummingutilities.com.