Lake Alice Consent Order EPD-WQ-5476
UNG honors mayor of Cumming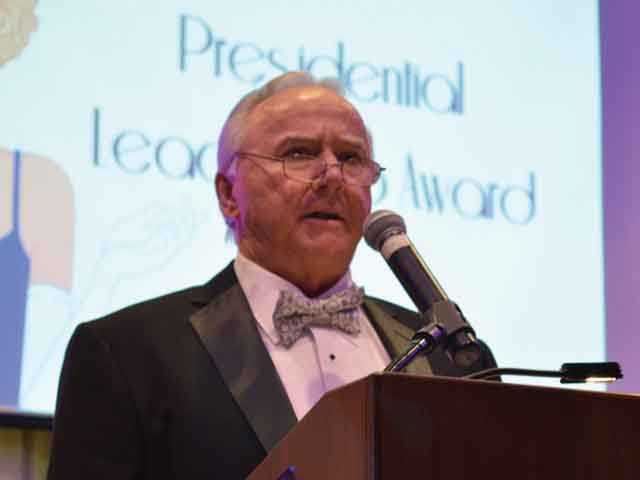 Article By Crystal Ledford
cledford@forsythnews.com
Forsyth County News
H. Ford Gravitt — now in his 48thyear of service to the city of Cumming, first as a city councilman and for more than four decades as mayor — was presented with the Presidential Leadership Award during the university's second annual Scholarship Ball at the Lanier Technical College Forsyth Conference Center.
First held last year in Gainesville, the black-tie event raises money for student scholarships and celebrates the university's supporters. Next year, the ball will be held in Dahlonega.
Gravitt received the Presidential Leadership Award, which is given rarely and only to those who have shown the highest level of support for the university. He was honored for his long-standing efforts to create a higher education campus in Forsyth County.
"We have the special privilege of honoring a very special leader who is known for making things happen," said UNG president Bonita C. Jacobs. "With vision and determination, he led Cumming and Forsyth County officials and community leaders in efforts to bring higher education to this glorious community of Cumming."
Nearly 20 years of work toward that goal was realized two years ago when the university opened its Cumming campus on Aquatic Circle, near Ga. 400 at Exit 16.
"As a result of his perseverance, UNG will increase the educational attainment of students in this community and help our community continue to prosper," Jacobs said.
Besides leading efforts to bring the campus, which opened with more than 500 students and has grown to more than 750 students this past fall, Gravitt also personally funds two scholarships each year, Jacobs said.
One is given annually to deserving student from Forsyth County in honor of his late wife, Joan Carolyn, while the other is in honor of his alma mater, Forsyth County High School.
"It's been a great pleasure and I've been very honored to have been able to have helped North Georgia with the limited ability that I have to provide scholarships to the school," Gravitt said.
He was humble in his acceptance of the award, thanking others who had helped him throughout his life.
"It's been a long ride and I'm one of the luckiest persons in this room tonight probably," he said. "I couldn't have done near the things that's happened in Cumming, Ga., and Forsyth County without the help of a lot of people."
Gravitt attributed much of his desire to help his community to his mother, who raised him and his eight siblings alone after his father passed away when Gravitt was 13.
"She instilled from an early age, the love and commitment, hard work and dedication and friendship to your fellow man," he said.
He also praised James Otwell, the founder of Andean Chevrolet, who served as a mentor to him after his father passed away.
"He was the reason that I got into politics," he said. "James Otwell meant so much to me."
He said "one of the biggest cheerleaders" of his life was his wife, who passed away in 1998.
The ball, which had a Roaring '20s theme, also raised more than $300,000, and pushed the total raised for scholarships since last year's ball over the $1 million mark.
Featured Business Rooster's Café
In November 1989, Roosters Café was opened in Cumming by Jerry & Charlotte Castleberry. In June of 1991, Kenneth Westbrook and Michael Parker purchased Roosters from the Castleberry's and have been the owners ever since. The purchase and transition of ownership was very smooth because they were all longtime friends from the Roswell area. Michael and Ken grew up together in Roswell and did almost everything together. They went to grade school and high school and then they even went to college together at Georgia Southern.
Michael & Ken knew Rooster's had a great location in Cumming because it reminded them of Roswell when it was a small, friendly town where everyone knew each other. Rooster's also had a great menu to complement its location. True to their slogan "To get a better piece of chicken you'd have to be a rooster", which is why they call their chicken wings "Rooster's Wings".
Michael & Kenneth never intended for Rooster's to be a bar, which is why they created a family friendly restaurant that happens to serve adult beverages. Michael boasts "We have found over the years that if the kids are happy, Mama is happy and we all know when Mama is happy, Daddy is happy. That makes the world go round". Michael and Ken try to make most of their decisions on giving their customers the best value for their hard earned dollar. "The wonderful people of Cumming have opened their arms to us over the past 23 years and we have developed some great new relationships", says Michael.
Rooster's provide a fun and safe atmosphere for customers to come in and relax….oh and to eat as well. Not only do they have delicious chicken wings, they practically have a full menu of just appetizers and soups & salads alone. Rooster's serve up great burgers, sandwiches and entrées for the whole family to enjoy.
Michael gives personal thanks to the Cumming City Council Members and Mayor Ford Gravitt. He feels they have the presence of mind to provide the area with monitored growth while preserving the values of its heritage. Michael and Ken are grateful to be a part of the community and they feel proud to know their children have been educated in one of the best school systems in the state. For the record, Michael's wife Paula is a 1972 Forsyth County High School graduate and both of their children attended Forsyth Central High School as well as Lanier Tech. As for Ken, his daughter is happily attending Lambert High School.
In 2006, Rooster's expanded their horizons when they opened a second location in Dahlonega. Eddie Pruitt, a lifelong Forsyth County resident became a partner and has done a great job in providing the same great food and atmosphere at the new location.
"Hopefully, we can continue to grow and provide another town with a Rooster's Café of their own", replied Michael.
Rooster's Cafe
216 Atlanta Road
Cumming, GA 30040
Phone: (770) 889- 6890