Planning and Zoning handles the issuance of alcohol serving permits. The fee is $20.00. Applications will only be accepted on Tuesday and Thursday between the hours of

9:00 am and 4:00 pm

with a one hour break for lunch from 11:30 am to 12:30 pm. Please be sure to have both your

driver's license and social security card

, as our City Ordinance requires you to present them BOTH at the time you submit your application. Planning and Zoning is located on the bottom  floor of the City of Cumming City Hall which is located at 100 Main Street Cumming, GA, 30040. If you wish to fill out your application before coming into the office, here is a copy of the CH CONSENT
2015 City of Cumming Annual Report
City of Cumming officials and staff are pleased to present the 2015 Annual Report. This is the first time in the history of the City that this publication has been produced and we are excited to share it with the community.
Inside the pages of the Annual Report, you will find highlights of the City of Cumming's accomplishments from 2015. Moving forward, we plan to create a new Annual Report every year, each recapping the successes of the previous year.
Click Here to view the 2015 Annual Report, or pick up a hard copy at Cumming City Hall, the Cumming City Park Recreation Building, Cumming Aquatic Center, Cumming Playhouse or Cumming Fairgrounds Office.
Happy Family Restaurant
Anyone looking for fresh, authentic Chinese, Thai and Japanese cuisine doesn't have to go any farther than downtown Cumming. Happy Family Restaurant, Cumming's first Asian eatery, recently re-opened after being closed a couple of years.
The restaurant's founder, "Grandpa Long," began the establishment about 30 years ago. Grandpa Long ran Happy Family for decades, but about eight years ago fell ill and wanted to return to his native Taiwan. He eventually passed away there, and about two years ago, his three children – Kathy, Charlie and Andy Long – decided they wanted to reopen the local restaurant, keeping their father's memory and traditions alive at the same location.
"We are located in the heart of Cumming, behind the old courthouse," Kathy Long said. "We are in a great location within a great community so we have no desire to go anywhere else."
During the restaurant's hiatus, the family completely renovated it, creating a more open dining area with modern booths, tables and bank seating. They also brought in new wall colors and decorations that make restaurant patrons almost feel like they are taking a trip to a beautiful, exotic paradise. The outside façade was also modernized in order to better flow with the appearances of the restaurant's adjoining neighbors.
While the look of the restaurant has changed, Kathy says customers will still find the same warm, welcoming spirit within as when Grandpa Long operated Happy Family.
"We were the first Chinese restaurant in Cumming and we have been successful all these years because we like to treat our customers like family," she said. "That is something that my brothers and I believe in very strongly and will always continue."
Happy Family's menu continues to offer freshly made Tai and Chinese fare, including traditional favorites like Sweet and Sour Chicken, Mongolian Beef, Mu Shu Pork, and Pad Thai. There are also many specialty dishes, such as Triple Delight with shrimp, scallops and crabmeat, and Seven Stars with beef, pork and chicken, surrounded by seven fried, jumbo shrimp. Happy Family also features a full Japanese menu and sushi bar offering special sushi, nigiri and sashimi dishes that look like colorful works of art. They are almost too beautiful to eat – almost! The restaurant also serves a range of beer, wine and sake.
Customers can enjoy everyday lunch specials – which include fried rice, choice of egg roll or crab Rangoon and choice of soup – starting at just $6.45. Customers can eat in, take out or have their food delivered (within a limited delivery area). And for a limited time, patrons can "buy one, get one half off" on all sushi rolls.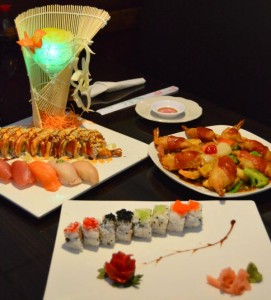 The Long family says they are thrilled to be open again in downtown Cumming.
"Everyone at the City of Cumming was so helpful in getting our restaurant up and running again, which is the reason we have always remained in Cumming," Kathy Long said. "This community is very much like family, and having this family makes everything better.
"Cumming has seen such dramatic changes in the last few decades and we got to experience all of it. We have never thought of moving elsewhere. We were here at the beginning, when Cumming first started growing, and we plan to be here until the end."
Happy Family Restaurant
103 West Courthouse Square
Cumming, GA  30040
(470) 695-7233
Hours:
Monday-Thursday, 11 a.m. to 9:30 p.m.
Friday & Saturday, 11:30 a.m. to 10:30 p.m.
Sunday, 11:30 a.m. to 9:30 p.m.