The City of Cumming Wishes You a Merry Christmas & a Happy New Year!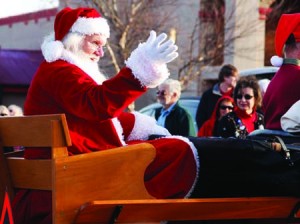 With Christmas right around the corner, we find ourselves out shopping for presents, putting up lights, and finding the perfect Christmas tree. Christmas is an exciting time in the City of Cumming, each year the City lines the streets with beautiful lights and decorations that are sure to get you in the holiday spirit. Getting ready for Christmas is a lot of fun, but it sometimes feels more like a chore than anything else. Thankfully, there are a lot of community events in Cumming that are fun to do as a family.
We start off a joyful holiday season on Saturday, Dec 6th & 7th with the Market Place Christmas Community Celebration. "Start the weekend off on Friday at the Celebration of Lights at Northside Hospital – Forsyth with live entertainment from local schools and groups, children activities, photos with Santa and the lighting of the giant Christmas tree atop the hospital."
"Saturday participate in a short run/walk in the Jingle Jog 5K that takes you down Mary Alice Park Road and back to Market Place Boulevard. Then kick back and enjoy the season with your community, family and friends to cheer on the festive floats in the Cumming Christmas Parade."
For more information on these events, please go to http://www.marketplacechristmas.com.
On the weekend of Dec 13th and 14th, the City of Cumming Fairgrounds holds their annual Arts & Crafts Festival. During the festival weekend, they also offer free photos with Santa, Christmas caroling and even hay rides.
For more information including exact dates and times, please visit the Cumming Fairground site http://www.cummingfair.net/html/christmas.html
Last, but certainly not least is the Cumming Playhouse which hosts a variety of Plays, Musicals and Christmas Concerts through the month of December. The Playhouse is situated within the 1923 Cumming Public School a structure named to the National Register in 2000. A property of The City of Cumming, it also houses "The Historical Society of Forsyth" County and "The Col. Hiram Parks Bell Center for Southern History and Genealogical Research". For specific events, dates and times, visit their site http://www.playhousecumming.com.
Upcoming Playhouse Events
White Christmas Irving Berlin
Nov 21 – Dec 15, 2013 – T,F,S 8pm , Sun. 3PM
Mat A BK Production
The Forsyth Youth Orchestra Holiday Celebrations Concert
Dec. 4, 2013 – Wed. 8 PM Holiday Festivities
Christmas Classics 2013
Dec 17, 2013 – Tue 8PM
North Georgia Barber Shop Singers Christmas 2013
Dec 19, 2013 – Thu 8PM
Cumming Playhouse Singers Christmas Concert 2013
Dec 20, 2013 – Fri 8PM
Sounds of Sawnee Christmas Concert 2013
Dec 21, 2013 – Sat 8PM
The North GA Chamber Symphony Christmas Concert
Dec 22, 2013 – 3 PM
Directed by Laurin Smith
The Return, Beatles Tribute Band
Dec 31, 2013 – 2 Shows – 3PM and 8PM
New Year's Eve !!! BEATLEMANIA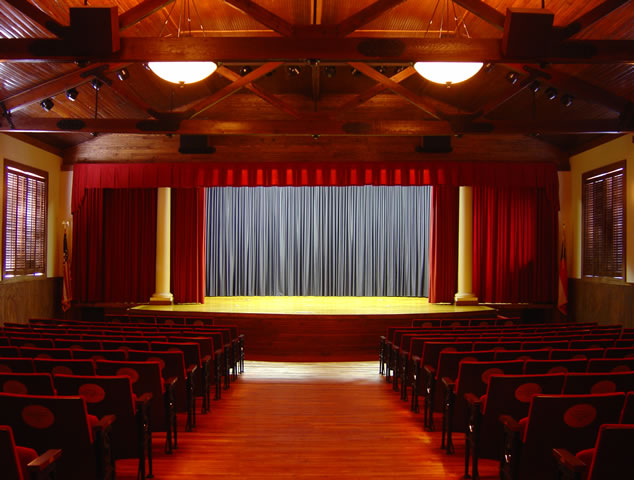 Featured Business - Lisa Ison
It seems that days after any large celebration, we can remember every detail, "Who we invited", "How pretty the sky looked that day?", "What clothes I was wearing?" Slowly as time passes, so do our memories. As months and years pass, you may stumble upon a picture of that special day or moment and remember a lot of details, but certainly not most of them anyway. Now a day, everyone has access to a digital camera, but most of us just know how to take a picture, not capture the moment like seasoned photographer.
This is where Lisa Ison of Lisa Ison Photography comes in who says that she "loves to discover and capture hidden treasures in everyday life and to transform those images into captivating layouts, videos or other printed pieces." Lisa has been in business since 1983 and moved to Forsyth County in 1986 with her husband Dave. After purchasing one of the oldest houses in the county and with a lot of "Sweat Equity" they both fell in love with their new home in the beautiful rural area that makes the City of Cumming so special.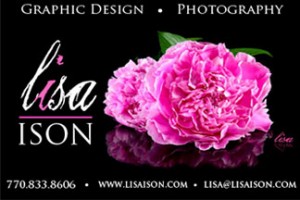 Lisa works by herself and loves to be a part of a progressive yet home-town atmosphere. Lisa spends time with her clients so she can understand the moment they wish to capture. She shoots all types of images from weddings to pet portraits. Lisa has many awards in local & regional shows and has been featured in several magazines.
Lisa feels that the Mayor and the City of Cumming have made it easy and affordable for small business and this has helped her grow and prosper over the years. Lisa thinks that the "Featured Business" section on the www.cityofcumming.net website "puts small businesses in the spotlight so that locals can get to know who they're doing business with."
Coupon: $99 for a one hour photo session with Lisa Ison at a location of your choice in Forsyth County. This includes a hi-res disc of all of your images. Coupon Expires 3-31-14
Visit us at http://www.lisaison.com
Lisa Ison
Phone: 770-8338606
Email: lisa@lisaison.com