Lake Alice Consent Order EPD-WQ-5476
Cool off this summer in Lake Lanier
Escape to Lake Sidney Lanier for some rest and recreation! Located just 40 minutes from downtown Atlanta, Lake Lanier is the perfect getaway for everyone. Highway 400 north delivers you to the doorstep of fun & relaxation. Exit 14 in Cumming places you in the center of our local hotels, shopping centers and boat/RV storage locations. Market Place Boulevard will lead directly to Mary Alice Park where you and your family will find beaches, grills, picnic tables, a pavilion and boat ramps to soak in a day in the sun, right here in beautiful Cumming, Georgia!
Although the community has had access to Lake Lanier via Mary Alice Park since its inception, the City of Cumming gained management rights by mean of a long term lease with the US Corp of Engineers.
This has allowed the City of Cumming to better maintain and enhance the beach facility making it a very popular spot for summer activities. Although greater development is not presently planned for the peninsula, it is a very promising piece of shoreline conducive to many options.
Lake Sidney Lanier
Mary Alice Park
1820 Mary Alice Park Road
Cumming, Georgia 30041
(770) 886-0635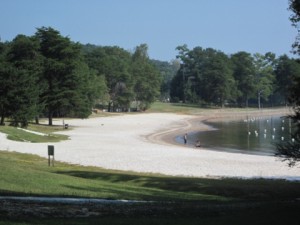 Mary Alice is a Day Use Park with following rates: $4.00 per vehicle, $1.00 per person (pedestrian), buses $1.00 per person. 12 and under are free. Boat launching is $4.00. Annual Park Passes are available for $25.00. Mary Alice Park is a Seasonal Park. Seasonal Park Hours are from 8:00 am until 9:00 pm. Boat launching is open daily year round. Boat ramps must close if lake level is at 1059.5 or less.
Picnic Pavillion Rental
The Picnic Pavilion is available for reservations at Mary Alice Park and is operated by the City of Cumming. This pavilion is ideal for family reunions, birthday parties or company picnics. The picnic pavilion reservation fee is $75.00. The reservation fee does not include the day use fee at Mary Alice Park.
Call (770) 781-3491 for Pavilion Availability
http://www.cummingfair.net/wp-content/uploads/2014/02/Pavilion_Rental_Rules.pdf

Featured Business Goodson Drug
In July of 1959, Jim Goodson opened a full service pharmacy called Goodson Drug Company and it was located in downtown Cumming. Most people have heard of the saying "Location, Location, Location" which implies that any retail storefront business will prosper simply because of their location. Situated on the corner of Castleberry Road and West Maple Street, Goodson Drug Company have as good of a location as any. What about "Experience, Experience, Experience", they have that covered as well. Goodson opened the Pharmacy in 1959 back in a time when a stamp only cost $0.04 and Alaska & Hawaii had just become this nation's 49th & 50th States.
So how does a company that is 55 years old continue to thrive and maintain success? Over the years, they have preserved a strong commitment to their customers and have always felt that Cumming is a great city with a wonderful community. Jim's grandson Lee boasts "Everybody working here genuinely wants to offer the best service possible to all of our customers. Our pharmacy's motto has always been "We Serve to Serve Again". Although this may sound like a platitude, it is the model on which our service is built". Lee continued by saying "We are loyal to our customers. We treat them as if they are our family and I think the loyalty that we give them is reflected in the loyalty they give us. Some of them have been using our services for three or four generations. We don't take this lightly and we look forward to serving them in the future".
"We Serve to Serve Again"

The Goodson Drug Company has always been locally owned and operated by a member of the Goodson Family. Current pharmacist's includes Jimmy Goodson, Rance Cain, Lee Goodson, Margaret Hinson, Maria Bray, Donna Sigmund, Jennifer Richardson, and Megan Scott. Their longtime technicians are Venicia Hughes, Karey Hughes and Tiffani Powell and of course Byron Goodson. Finally, their front cashiers Willie Mae Keys (her family has been working with the Goodson's since the 1950s) and Ruby McDougle.
When asked if they had any enjoyable stories on how they went above and beyond for a customer, Lee replied "An elderly customer used to call frequently just to chat with one of our pharmacists. The customer was lonesome and often wanted to discuss politics or current events, or just wanted to tell the pharmacist what the sermon was about at the most recent church service he had attended. This pharmacist would often spend his lunch break taking this customer things he needed, even if it meant going to the grocery store on the way and picking up a few groceries and a twelve-pack of Dr. Peppers, and then stay and visit with this customer until it was time for him to come back to work."
Lee Goodson is very proud to be located in the city and feels "The City of Cumming has a very logical approach to the way government is running and this is a direct reflection of Mayor Gravitt's leadership". Usually when dealing with community/city governments, politics seem to play a very big role in getting things accomplished. "The City has a practical approach, making it so that businesses are able to accomplish goals without getting bogged down in red tape."
FYI, for all of you Nascar fans, 1959 happens to be the 1st Daytona 500 race and Lee Petty was the winner.
Goodson Drug Company
116 West Maple Street
Cumming, GA 30040
770-887-5040
http://goodsondrugcompany.com/