Planning and Zoning will now be handling the issuance of alcohol serving permits. The fee is $20.00. Applications will only be accepted on Tuesday and Thursday between the hours of

9 am and 4 pm

with a one hour break for lunch from 1130 to 1230. Please be sure to have both your

driver's license and social security card

, as our City Ordinance requires you to present them BOTH at the time you submit your application. Planning and Zoning is located on the bottom  floor of the City of Cumming City Hall which is located at 100 Main Street Cumming, GA, 30040. If you wish to fill out your application before coming into the office, here is a copy of the CH CONSENT
We will not be processing any alcohol server permits from November 21st through December 5th. We will resume issuing the permits on December 8th on our normal schedule of Tuesday's and Thursday's from 8:30 am to 4:00 pm.
RECAP – ANNUAL VETERANS DAY CEREMONY
About 500 people attended the City of Cumming's Veterans Day Ceremony, held on Nov. 11 in conjunction with American Legion Post 307 and the Forsyth Christian Home Educators. Among those in attendance were more than 100 local veterans and active duty military personnel.
Among the participants in the event were members and the auxiliaries of VFW Post 307 and American Legion Post 307, Daughters of the American Revolution, and the Forsyth County Sheriff's and Fire Department Joint Honor Guard. Student organizations taking part included the Forsyth Christian Home Educators Co-Op, Christian Fine Arts of Forsyth, Forsyth Central High School Flash of Crimson Band, and North Forsyth High School Marine Corps JROTC. Randy McGhee, commander of American Legion Post 307, served as emcee for the ceremony, while Cumming Mayor H. Ford Gravitt presented opening remarks. Tom Golden, Chief Warrant Officer Five for the Georgia Army National Guard, presented the keynote address.
Thank you to everyone who participated or attended, making the event a great success!
City of Cumming Fall Events
The Cumming Country Fair & Festival may be over, but there's still plenty to do in the City of Cumming this fall.
At the Cumming Fairgrounds, October finishes up with the FAST Pace Race 5K, 10K and 15K on the 18th and the Halloween Half Marathon on the 26th.
November rolls in with the Cumming Steam, Antique Tractor & Gas Engine Expo on Nov. 7 and 8. This annual event, presented by the city and the Cumming Antique Power Association, honors technologies of both the past and present by spotlighting numerous machines that utilize steam and gas power.
The National BBQ Cup returns on Nov. 21 and 22 with dozens of professional and amateur barbecue teams from around the country. Smoke masters will show off their skills in a number of categories, including pork, chicken and beef brisket during the contest, which is one of the largest of its type in the country. Members of the public should get their taste buds ready to sample championship barbecue during People's Choice contests both days.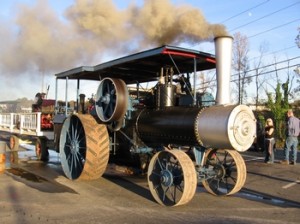 For more on events at the Cumming Fairgrounds, click on "Fairgrounds" under "Departments," or go to www.cummingfair.net.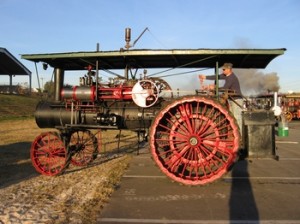 November closes out with the Annual Buck Jones Toy Run, a motorcycle ride that collects toys for children in need throughout Forsyth, Dawson and Lumpkin counties, on Nov. 23. The run, which honors the memory of Jones, a former Cumming police chief, begins its tri-county route at the fairgrounds.
Across town at the Cumming Playhouse, BK Productions' "Gypsy: The Musical" began its four-week run on Oct. 18. Performances of the classic musical, which has been described by many theater critics as one of the best show's in Broadway's history, continue through Nov. 9. Thursday, Friday and Saturday shows begin at 8 p.m., while Sunday performances are at 3 p.m.
For more information on "Gypsy" and other Cumming Playhouse shows, click on "The Playhouse" under "Departments," or go to www.playhousecumming.com.
Featured Business Shakeaway
Anyone who has walked into the Wal-Mart or Home Depot on Market Place Blvd within the last couple of months may have noticed a new business that has opened up. Shakeaway was opened on July 26th, 2014 and they are touted as "The Worlds largest Milkshake bar company." With over 180 ingredients and unlimited combinations, customers can create uniquely customized milkshakes to suit any taste. World Famous 'Named' shakes and seasonal menus offer two ingredients and a topping in each milkshake. All of our ingredients are national, well-known brands, and include only real items, such as slices of cakes/pies, fresh fruits, candies, cookies, etc. expertly blended into the milkshakes. They also offer a limited menu of soft-serve yogurt and smoothies, coffees and teas, and all of their milkshakes can be made HOT for the cooler months.
Daniel White and his wife Tanya are the owners of this Shakeaway Franchise. Their son Ryan, is one of the assistant managers and they also employ 7 part-time workers from the surrounding area. Daniel's says "My family has resided in Cumming for over 12 years, and we knew that this would be the perfect place to open our first store."
Unlike any other purveyor of milkshakes, Shakeaway caters to those with food allergies and intolerances and special dietary restrictions. They create milkshakes for these customers in specially cleaned and sanitized blender jugs with special utensils to avoid cross-contamination with potential allergens (e.g. peanut, dairy, tree nut allergies; dairy intolerance, vegetarian & vegan requirements). Daniel commented "We have families coming in with one member who has a peanut allergy and hasn't been able to enjoy a milkshake like the rest of the family. At Shakeaway, the whole family can come and get all the milkshakes they desire, with no one left out."
Daniel is highly involved in the community and has been a long-time member of the Cumming Kiwanis Club and the Cumming-Forsyth Chamber of Commerce. When asked about the City of Cumming and the Mayor's push toward strong economic growth in the area, Daniel replied, "I think it is a great service to the small businesses of the community to be located here, as it should serve to drive and increase sales that will allow us to focus on the positive aspects of the businesses in our community. This franchise location has been named the model Shakeaway location for the U.S. All future stores will be following their design, build out, and operation by Shakeaway Worldwide, LTD."
Shakeaway has a number of discounts available to members of the community, including 10% off for teachers & administrators of the Forsyth County School System, First Responders (Police, Fire, EMS personnel), and discount coupons are available in Up In Cumming magazine and The Little Coupon Book. Shakeaway also is a sponsor of Forsyth Central High School Girls' Softball Team, Lakeside Middle School, North Forsyth High School yearbook, Good Shepherd Catholic Church Youth Programs, and Dustin's Place Special Olympics Sponsor.
1050 Market Place Blvd.
Cumming, GA 30041
www.shakeaway.com