Cumming City Center
Situated on approximately 75 acres between Canton Highway and Sawnee Drive to the west of downtown Cumming and behind Forsyth Central High School, the Cumming City Center will offer a beautiful gathering place for our community featuring local shops, restaurants, the Lou Sobh Amphitheater, green space, trails and more! For the most up-to-date information on the Cumming City Center, be sure to like and follow the City Center on Facebook and Instagram, both @cummingcitycenter. Check out the City Center website at www.cummingcitycenter.com! NEW: The City Center now has it's own monthly E-Newsletter, the Bulletin Board! Click here to subscribe! 
City Center contact: Jennifer Archer, City Center Property Manager, 770-781-2010 or jarcher@cityofcumming.net.
The development, which is the vision of Mayor Troy Brumbalow, will offer a "main-street Americana" feel. Features include approximately 117,000 square feet of retail space, the Lou Sobh Amphitheater adjacent to a reflection pool, water fountain surrounded by personalized bricks, ample greenspace including several "pocket parks," a putting course, steam engine display honoring Cumming's historical and community ties to the machines, and an extensive trail and boardwalk system meandering above the Kelly Mill Branch stream, its tributaries and wetlands. Across Canton Highway, another 10 acres will be donated to the City of Cumming for development of additional walking trails in a later phase of development.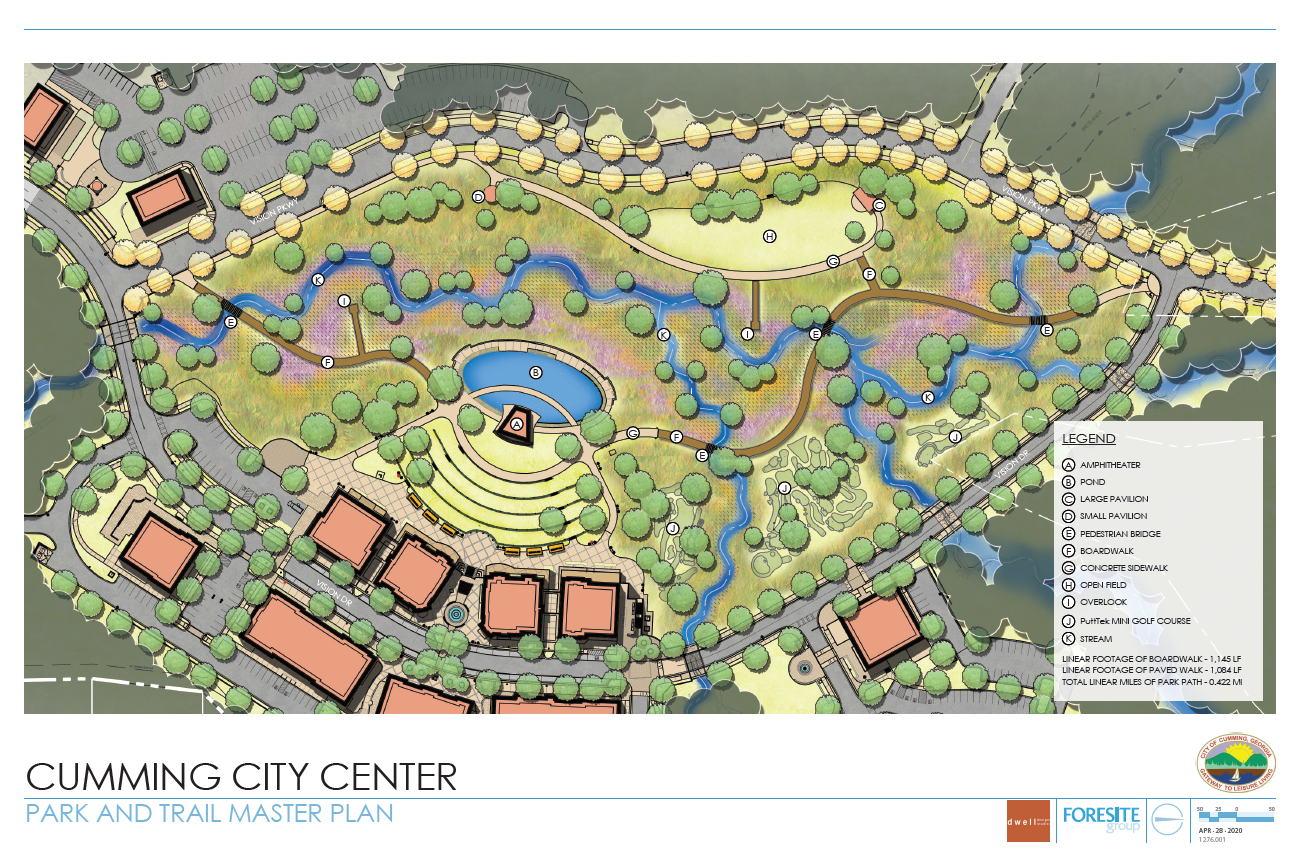 City Center Milestones
Groundbreaking Video (August 8, 2019)
City Center Logos and Buy-A-Brick Program Release (June 29, 2020)
Buy-A-Brick Program: Buy Your Brick Here (June 29, 2020)
Buy-A-Brick Program: Purchase Extended to End of 2020 (Nov. 24, 2020)
Buy-A-Brick Program: Final Chance to Purchase – Deadline May 31, 2021 (March 8, 2021)
Welcome Tenants: Social Media Campaign Begins with Pieces & Peaches (Sept. 15, 2021)
Welcome to the Family: Muse Cabin (Sept. 29, 2021)
Welcome to the Family: Wright's Fish & Chips (Oct. 6, 2021) 
Welcome to the Family: Los Rios Cantina (Oct. 8, 2021) 
Welcome to the Family: Roxy Moxy and Kings Kids (Oct. 12, 2021) 
Welcome to the Family: Social Exposure (Oct. 15, 2021) 
Welcome to the Family: Ten Point Boutique (Oct. 22, 2021) 
Welcome to the Family: Unique Cuts Atlanta (Oct. 27, 2021) 
Welcome to the Family: Lily Rose Co. (Nov. 19, 2021) 
Cumming City Center Website Launched (Dec. 13, 2021) 
Welcome to the Family: Mary Lucille's Bakery, Restaurant and Tea Room (Dec. 21, 2021) 
Welcome to the Family: Vampire Penguin (Jan. 5, 2022) 
Welcome to the Family: Pop.In  (Feb. 4, 2022) 
Lou Sobh Automotive Group Sponsors Amphitheater (Feb. 14, 2022) 
Center Partners with Splash Festivals for Cumming Art Fest (Feb. 25, 2022)
Welcome to the Family: Avenue of the Oaks (March 4, 2022) 
Center Partners with Chris Cauley's Four Carsons Entertainment (March 23, 2022) 
Welcome to the Family: The Course @ Tin Cup Grill (March 25, 2022)
Welcome to the Family: Juke N Jive Creamery (April 8, 2022)
Welcome to the Family: Crooked Culture Brewery (May 6, 2022) 
Welcome to the Family: ClearCourse Transportation Solutions (May 11, 2022) 
City Center Partners with Pieces & Peaches to Offer Seasonal Pop-Up Market (June 1, 2022) 
Welcome to the Family: Simple Man Distillery (June 3, 2022) 
City Center Ribbon Cutting Event Announced (June 14, 2022)
Welcome to the Family: SliceAbility (June 15, 2022) 
Welcome to the Family: Homestead (June 17, 2022) 
Welcome to the Family: Good Vibes Nutrition, Inc. (June 20, 2022) 
Welcome to the Family: Good Chemistry Health & Med-Spa (June 23, 2022) 
Welcome to the Family: Forsite Group (July 1, 2022) 
Welcome to the Family: Tin Cup Grill (July 1, 2022) 
Welcome to the Family: Sugar Polish Nail Bar (July 6, 2022) 
Welcome to the Family: Irwin Homes, LLC. (July 18, 2022) 
Welcome to the Family: Top KNOTch Boutique (July 21, 2022) 
Ribbon Cutting Video (July 22, 2022) 
Cumming Farmers Market Makes Big Move (Aug. 26, 2022) 
Lou Sobh Amphitheater First Concert Announced (Oct. 4, 2022) 
Pieces & Peaches Debuts First Seasonal Pop-Up Market on Oct. 22nd (Oct. 10, 2022) 
Pieces & Peaches Announces Winter Pop-Up Market on Nov. 19th (Oct. 27, 2022) 
Welcome to the Family: Rita West Photography (Dec. 7, 2022) 
Welcome to the Family: Santa Maria Tapas Bar (Dec. 14, 2022) 
Welcome to the Family: Rock 'N' Taco (Dec. 16, 2022) 
Welcome to the Family: Willis Group Real Estate (Dec. 19, 2022) 
Welcome to the Family: Cumming Family Chiropractic (Jan. 30, 2023)
Pieces & Peaches Announces Spring Pop-Up Market on April 22nd (Feb. 3, 2023)
Welcome to the Family: Salon AF & Beauty Co. (June 19, 2023) 
Cumming Art Fest Returning Sept. 16th & 17th (July 14, 2023)